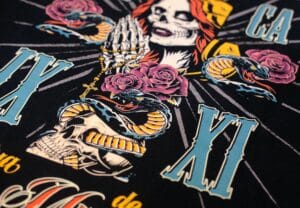 Direct to film printing is an innovative, new way to print your design on almost anything. Now, your favourite design is not limited; Show off your brand!
Who knew that one day you'd be able to print your favorite design directly onto almost any material? Well, with new advancements in printing technology, that day has arrived!  It's perfect for entrepreneurs and business owners who want to create unique products. Keep reading to learn more about this new printing method and how you can use it to take your business to the next level.
DTF, or Direct to Film, printing has become increasingly popular due to its versatility and ease of use. The process involves printing directly onto a film which is then heat transferred to the item desired. This allows for customized designs on any fabric – from t-shirts and hats, to mugs and towels. It can also produce intricate patterned details with sharp images in colorful vibrant tones. Additionally, this method of printing is faster and more cost effective than traditional methodologies, making it an attractive option for businesses looking to make a powerful impact with their promotional items at an affordable price. All in all, DTF printing offers a reliable platform for producing high quality customized designs that never fail to impress.
Direct to Film (DTF) printing is becoming increasingly popular for companies looking to create promotional items with vibrant and detailed designs. It's no surprise why; the inks used in DTF printing can penetrate the fibers of the fabric, ultimately producing a print that won't fade or peel away after a few washes. This makes it ideal for those wanting to make high-quality products like t-shirts and bags that will be used regularly – something not achievable by traditional printing methods. So whether you're outfitting team members with custom shirts or creating fashionable apparel for your store, DTF printing is the perfect way to achieve an eye-catching design that will last.
DTF printing is a great option when you want to customize your product and make it stand out. With its wide range of fabric and ink choices, you can create something truly unique that reflects your own style. Even if you decide to produce a large batch of merchandise, you can tailor each item to fit the exact specifications that best represent your brand. No longer do you have to settle for generic items off the shelf when you can express yourself more vividly and stand out from the crowd with DTF printing.
Design by NH is one of the top names in the DTF printing industry. Whether you need custom apparel or promotional items printed on Nylon, Polyester, Spandex, Design by NH has you covered. Not only that, but Design by NH offers a huge selection of apparel and items for creating your own unique message or design. From t-shirts to hats, Design by NH ensures that whatever you create will turn out looking awesome and be of high quality. Design by NH is the perfect choice for getting your message out with style!
Design by NH is a one-stop shop for all your custom printing needs! With an array of services – from DTF to embroidery, screen printing, and sublimation printing – Design by NH can handle any project you come up with. For example, if you need T-shirts for your upcoming event, or customized hoodies for a birthday present, Design by NH has got you covered. No matter what product you're after, they'll make sure it's created with the same level of quality and precision. So if you're looking for a reliable partner to help bring your design vision to life, look no further than Design by NH.
DTF printing is a great way to customize wearable items like t-shirts, jackets and hats. Its advantages over other printing methods make it a great option for businesses or individuals looking for high-quality prints that are permanent and won't fade or peel away with time. The ink used with DTF printing penetrates the fabric fibers to ensure a durable image that's highly visible even on darker coloured fabrics. With Design by NH, you can find a huge range of fabric types and colors, as well as different ink colors and styles to choose from. Not only do they offer excellent DTF printing services, but they can also help with embroidery and screen printing projects too. If you're looking to give your products unique visuals without compromising on quality, get in touch with Design by NH today for an expert service. Contact us today for more information or a quote!
No matter what kind of custom printing project you have in mind, Design by NH is here, order Direct to Film Printing today.