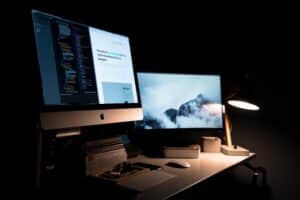 You're a busy business owner who is looking to save money hiring a web designer. You may be thinking, how can I save money and still get a quality website? The answer is simple: Do your research.
Taking the time to understand what you need from a website and what budget you have to work with, will help you find a web designer that meets your needs without. Here are some tips on how to save money when hiring a web designer:
Know Your Budget – The first step is understanding how much you are willing or able to spend on a website. Once you have an idea of your budget, you can start researching designers that fit within your price range.
Research Designers – Once you know how much you want to spend, it's time to start looking at different designers and their portfolios. When evaluating designers, make sure to look at examples of similar projects they have completed in order to get an idea of their style and capabilities. Also, don't forget to read reviews!
Get A Few Quotes – After narrowing down your list of potential designers, reach out and request quotes from each one. This will give you an idea of cost, but also the timeline for completion and any other requirements that may be needed from you such as content or photos.
Make Your Decision & Enjoy Your New Website! – Now it's time for the final decision! Choose the designer that fits both your budget and your vision for the site, then sit back and relax while they do all the work.
Soon enough you'll have a brand new website that will help take your business to the next level! Thanks for reading and we hope these tips help saved you some money while finding a great web designer! 🙂
Have a plan
Businesses looking to design a website should always have a plan before they get started with building their website.
Having a plan in place can save countless hours, resources and money that might otherwise be wasted on projects that fail to meet expectations. A well thought out plan will ensure the website design is on-brand, make sure the site objectives are clearly described, and level set the timeline for delivery.
Business owners should take some extra time to identify their needs, wants and reach out to industry professionals if necessary to create an amazing website without difficulty or stress. This can include researching potential competitors' sites, creating ideation boards of elements they like from other designs, speaking with internal stakeholders to understand the goals of the project, and more.
Having a clear understanding of what you're looking for will allow to better communicate your expectations and find professionals who align with your vision. This research also helps you make more informed decisions throughout the web design process by understanding budgets, timelines, functionality requirements and more.
What do you want your site to look like?
Once you have a clear vision of the look and feel of your website, it is important to be able to articulate this to your web designer. A helpful way to do this is by providing a list of websites whose design elements you admire. This will help convey direction and make sure that your end product reflects what you want it to look like.
Researching existing websites gives you an idea of the structure and features that are possible, as well as how best to ensure that the user experience is enhanced in a meaningful way. Providing samples can give designers creative inspiration for making your site stand out from the rest – helping them understand exactly what they should aim for in creating your unique space online.
Clear direction, saves time, and money.
Giving your web designer clear direction is key to make sure the job is completed quickly and meets your expectations. Provide them with as much information as possible, such as the type of design you're looking for, which features you specifically want included, any branding guidelines that are relevant, etc.
Discussing all details upfront before the project is started will help keep everyone on the same page and ensure tasks are clearly defined from the outset. With these necessary steps in place, you'll be well placed to achieve an efficient turnaround for your website design project.
Having content ready to go before you start.
Having your content ready before approaching a web designer is one of the most important steps in launching a successful website. Writing clear, concise, engaging copy for all of your pages will ensure your audience has access to the information they need, helping communicate what makes you unique and setting realistic customer expectations.
Knowing exactly which sections you want included in the navigation bar will help organize the path for your site visitors, making for an easy and thorough user journey. Photos and videos can also add value to your website – if you don't have any on hand, many web designers have access to affordable stock media that could be used instead.
You'll be well on your way to creating a captivating website when all of these elements are in place.
Should you update the website?
When your website is ready to launch, you may be tempted to try to handle all future updates on your own. However, if you're a busy business owner with limited time, outsourcing these updates to an experienced web designer can save you both time and energy.
Typically, creators of these websites are well-versed in their craft and only need 15 minutes for most updates – in comparison, that could take a beginner up to an hour or more. Leaving the updates to the professional, you know that the job will get done right while freeing up valuable time that could otherwise be put towards running other aspects of your business. After all, time is money!
All in all, having a good plan when creating your website is paramount. Knowing exactly what you want and giving your web designer clear direction will ensure that you get the website of your dreams, quickly and efficiently. Make sure to have all of your content, photos and videos ready to go when you launch.
After that, it's up to the web designer to keep both the content and design of the website fresh. That way, readers can enjoy an online experience they love each time they visit.
Finally, remember time is money, so stay on top of any updates and maintenance needed for your website; leave this in the hands of your trusty web designer for quick execution anytime.
Looking for a web designer in Owen Sound and surrounding area? Get a quote today with confidence knowing that the project will be handled timely and professionally!